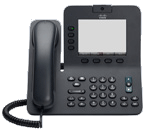 Combining your company's voice and data systems makes it easier to keep in touch and share information. By unifying your business' phone and computer network, team members can easily find each other, wherever they are, and customers and prospects can be quickly routed to the best resources.

As your business grows, IP based communications technology lets you add new employees, remote offices and teleworkers with minimal effort and expense. At each step, your team has the communications tools it needs to help your business succeed.
Categories

Phones

The Cisco Unified IP Phone Portfolio is a comprehensive set of phones with a wide range of features and price points to meet your specific business needs.

Video and Conferencing

Meet with anyone, anywhere over the web and work together as if you're in the room together. Deliver presentations.

Voice Gateways and Accessories

Take your existing analog phones and fax machines online and experience the quality and affordability of Internet telephony.

Voice Systems

Secure data, voice, video and wireless all come wrapped up in the Cisco Smart Business Communications System (SBCS) package.