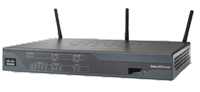 Imagine the simplicity of one security device protecting your data from attacks, viruses, malware, or service disruptions. Your Website, servers, and databases are all protected. As your business grows, you can flexibly and incrementally add more protection without spending a lot more money.

With a Cisco Security solution you'll be able to:
Reduce cost and complexity through integration of major security features on a single piece of hardware
Protect remote workers with the same device
Employ state-of-the-art data encryption and identify authentication techniques
Take advantage of easy-to-use setup and management
Help customers address the common spam problem that hurts productivity and often brings other threats into a business
Categories
Security Solutions

All-in-one solutions that combine high-speed network connectivity with integrated VPN, firewall, email, and web security capabilities to protect small businesses.